Trusted Name in Plumbing, AC & Mechanical Since 1982
At MCS we are excited to meet the wide ranging demands of our customers:
Mexia ISD, Mexia, TX June – September 2016. Mexia High School HVAC Renovations
L-3 Communications, Waco, TX April 2016. Piping to install new Quincy 200 HP compressor
BJ's Brewhouse Brewery, Temple, TX March – April 2015. Fabricated and installed stainless steel piping in new manufacturing facility
RoboVent for Caterpiller, Waco, TX May – August 2014. install piping and equipment for chill water system throughout plant
Central Texas College, Killeen, TX June – July 2014. Upgrade of Sanitary Sewer Lift Station, Bldg 139
Stephen F. Austin State University, Nacogdoches, TX June – August 2014. Remove & replace gas fired boilers & associated mechanicals for the Boynton Building
Schrieber Foods, Stephenville, TX. March 2013 – July 2013. Installing Stainless Steel heating water loop to various tanks, made hot taps on supply lines, reset equipment
McLennan Community College, Waco, TX. March 2013 – October 2013. Chiller Replacement at CSC Building Module F including installation of VAV boxes & new hot water valves.
L-3 Communications, Waco, TX. November 2013. Repair sewer lift station
McLennan Community College, Waco, TX. December 2013. Installation of 10 ten ton rooftops units per specifications.
Thermal Technologies, Cleburne, TX. October 2013 Repair Glycol piping system for medium temp ripening rooms at Wal-Mart Distribution Center.
Aramark, Baylor University, Waco, TX. 2012 – present Quarterly maintenance on Library, indoor baseball practice field, indoor football practice field
TX DOT, Various locations in Central Texas, January 2009 – Present. Preventive Maintenance/Repair Contract HVAC services at 13 locations throughout central Texas. Demand Welding and Plumbing service.
Thermal Technologies, Inc., Temple and Terrell, TX. April 2008 – August 2009. Fabricate and install Glycol piping systems for medium temp ripening rooms at Wal Mart Distribution Centers.
Mars Pet Care, Temple, TX December 2008 – July 2009, Steam line repairs and installation, extruding equipment re-piping & stainless steel repairs. RPZ installation & testing services.
L-3 Communications, Waco, TX April 2009 – June 2009. Install 100 Hp Air Compressor, Desiccant Dryer and related equipment. Erect air compressor building and finish out walls, duct work, exhaust system, etc.
L-3 Communications, Waco, TX July 2009 - Install aircraft tie downs on runway for securing C-130 aircraft. Includes concrete coring, installation of 10 ft deep anchor points and concrete finish.
Big Creek Construction, Hewitt, TX November 2006 – July 2009. Hot oil loop fabrication and installation. Custom fabricate 10,000 feet of schedule 80 carbon steel piping loops for steam heat application for asphalt tanks.
McLennan Community College, Waco, TX February 2009. Demo and replace hot water boiler for Olympic pool to include expansion tanks and related accessories.
Wilsonart International, Temple, TX October 2008. Reset four 5000 gallon Melamine tanks and reconnect 4" stainless steel weld pipe to production loop as required.
Carpenter Company, Temple, TX October 2008. Demo and remove 30 ft tall by 12 ft diameter holding silo to include demolition of concrete pad and patch back of areas to match surrounding parking lot.
Lochridge Priest, Inc., Waco, TX April 2008 – May 2008. Baylor University Brick Boiler removal – Demo three each brick boilers – 30 feet long x 25 feet tall x 20 feet wide and renovate area for installation of replacement equipment.
University of Mary-Hardin Baylor, Belton, TX March 2008. Physical Plant-2 pipe system. Replace 400 ft of 6" chill water piping through parking lot area and tie back in to chill water loop to include parking lot repairs.
Allergan, Waco, TX June 2007. Dust collector relocation – remove and relocate dust collector for plant operations. Sterile fill #4 clean room equipment – install control air lines.
Allergan, Waco, TX April 2007. Water Room Condensate Receiver – remove and relocate equipment in clean room area.
Aramark, Waco, TX April 2007. Baylor University Fine Arts building – remove and replace building heat boiler.
Allergan, Inc. Waco, TX December 2006 – January 2007 Perform preventive maintenance on Makeup air units, AHU's & exhaust fans as directed by Allergan maintenance. Services included filter changes, bearing replacements, sheave replacements, belt replacements & alignments, motor replacements, lubrication, etc
University of Mary-Hardin Baylor, Belton, TX June 2006. Clark Hall sewer line replacement – 600 feet of 6" sewer main replacement to include sidewalk and parking lot repairs.
Aramark, Waco, TX October 2006 Baylor University Marina boiler replacement.
Lochridge Priest, Inc., Waco, TX June 2006 – August 2006, Baylor University Brooks Hall Expansion – modify chill water piping systems.
Allergan, Inc. Waco, TX December 2005. USP Purified Water Modification. Clean Steam Modifications for Mezzanine Removal
Allergan, Inc., Waco, TX January 2005. Autoclave Clean Steam Piping and exhaust hood installation
Waco JATC Apprentice School, Waco, TX April 2005 - August 2005. Installation of complete HVAC systems throughout school.
Temple Veterans Administration Hospital, Temple, TX August 2005. Replace boiler feed water piping throughout entire campus.
Allergan Shutdown December 2004 Installed high purity clean steam & USP Water. Replaced all boiler feed water piping in boiler house.
Central Texas College, Killeen, TX, Planetarium and Technology Building. 2001-2002. Installation of Mechanical and Plumbing systems. Mechanical includes underground chilled water and steam piping to heat exchangers. VAV and rooftop units are used to provide cooling and heating to the projection dome and classrooms.
Baylor University, Waco, TX, Tennis Complex. 2001 Install complete plumbing system.
Baylor University, Waco, TX, Truett Seminary. 2001 Install complete plumbing in multistory classrooms and chapel.
Sweetheart Cup, Dallas, TX. 2001 Install new air compressors, air receivers and chillers in existing facility. This project required extensive modifications to piping in the mechanical room. All work was coordinated with the plant. Piping was prefabricated and installed during scheduled shutdowns to minimize production loss.
East Texas Medical Center, Fairfield, TX. 2001 Emergency Room Remodel and Addition. Install HVAC system.
VA Medical Center, Waco, TX, Building 11 Remodel. 2000 Assisted general contractor with installation of plumbing system and mechanical piping.
Baylor University, Waco, TX. 2000 Install 6,000 linear feet of 14" underground chilled water lines to new Law School. 1998-1999 – Install 1- 2000 ton electric chiller, 1-1000 ton electric chiller, 1-1500 ton absorption chiller, 1-70 million BTU heat recovery boiler with new 80ft stack, complete remodel of piping system, including new 30" pipe headers while plant was in operation.
Anheuser-Bush Refrigerated Warehouse, Waco, TX Aug 1999 to June 2000 - Install refrigeration system.
Wilsonart International. 1994 relocation of power boiler and piping. 1996-1997- Performance contracting – Removal of existing air compressors, demolition of piping, installation of new piping air compressors and equipment. 1997-Installation of 2–900 hp boilers. 1999 Installation of high temperature, high-pressure piping system for #6 Laminate Press.
Professional Service with a Personal Touch
At McNamara, our goal is to be the complete resource for all our customers' mechanical needs, weather that is meeting their demand service needs or spending time customizing a solution to meet their facilities needs. Call us & let our staff meet your facility needs today!
Knowledge Base
At MCS our Staff is well trained in the different dispatching & invoicing systems that are currently being used in the demand service industry such as:
Verisae
Blue Sky
Service Channel
Parasense
Corrigo – Work Order Network
SMS Assist
Plus other proprietary systems
Local Service Repairs - Call McNamara Custom Services To Schedule 24/7
McNamara Custom Services, Inc. owns and maintains heavy equipment to insure timely response to our customers' needs. In most cases, we can deliver backhoe equipment, forklifts, shoring, etc. within a matter of hours – not days. Additionally, we offer dump truck and 18-wheel tractor/trailer services.
How Can We Make Your Day Better?
Call McNamara Custom Services today at (254) 836-4304 and see how we can make your day better with honest estimates, quality workmanship, and a dependability that is hard to find with other commercial and industrial contractors!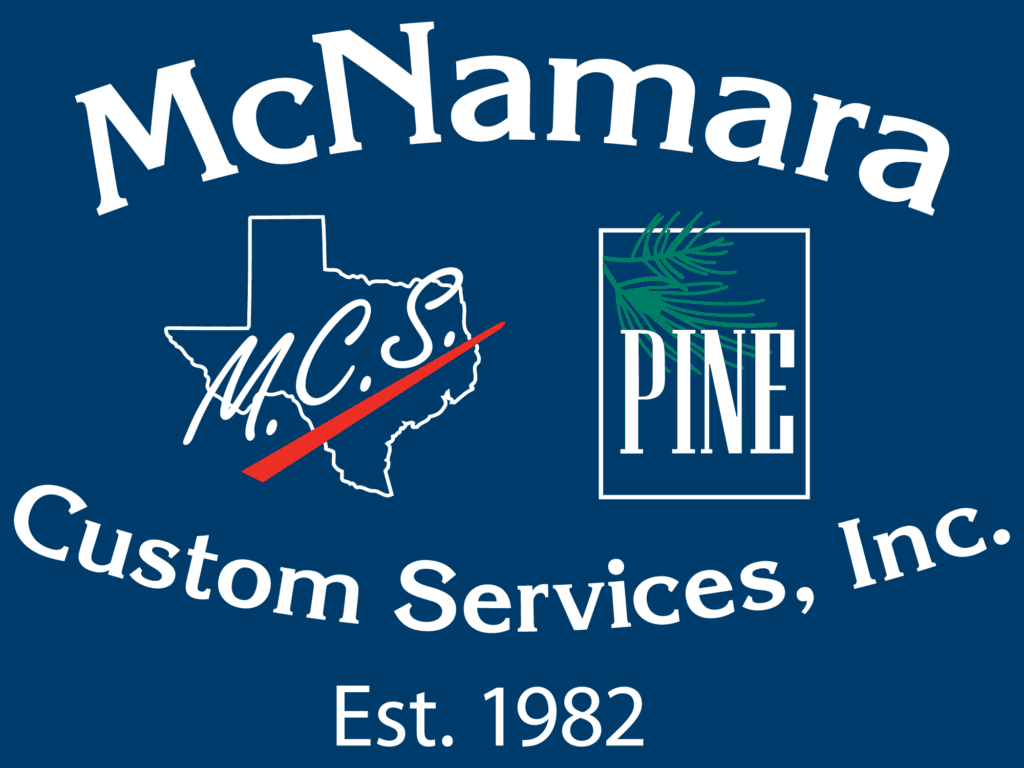 Core Values
Offer our customers those services that will add comfort, value, and safety to their business.
Respect the customer's time, money and resources.
Tell the truth regardless of the consequences.
Treat others the way you want to be treated.
Always On Time
Your time is important, so we show up on time, every time.
Hard Working
We are courteous, friendly, and treat you like we would want to be treated.
24/7 Availability
Overall, we are there to do a job and we get it done no matter what it takes.
Texas
Serving many cities in Texas for over 40 years, MCS, is here to support your business with honest prices and OEM quality parts installed by licensed AC Techs, Plumbers, Sewer Repair, Refrigeration, Refrigeration Repair, and HVAC.